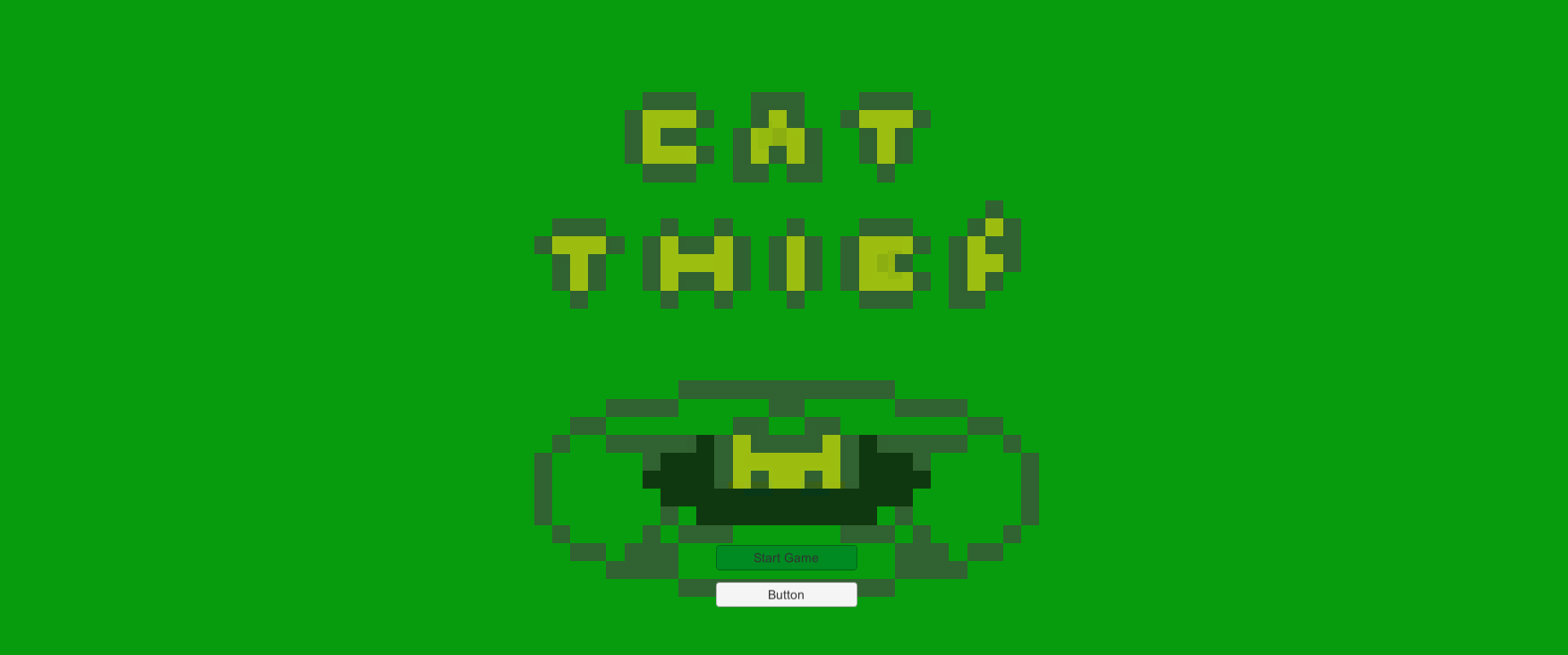 Cat Thief
WHOOSH.
You're a cat now.
Taking a nap right now sounds like a good idea.
Your objective is to find all of the shiny things.
And play with them.
Because that's what cats do.
Oh, and doing that will somehow help your master rule the world.
That's nice I guess.
INCLUDES:
Purrfect gameboy-inspired graphics by Joe
Music and SFX by mbg180 that will keep you feline good
A pawsome game coded by JellyBelly (aka ArmyAntsStudios)
A meowntain of bugs
We litter-ally can't pawse these puns. We're not kitten.
With love,
Retroroma

(Don't stop reading meow! The story begins!)
Wizard: Preparations are almost complete, my lord. All we need is…
Demon Lord: IS WHAT?
Wizard: Uhh, w-we'll need quite a few things actually before we can t-take over the world.
Demon Lord: THEN GO GET THEM.
Wizard: T-these things are scattered across the mortal realm. I can't exactly go there, you know?
Demon Lord: THEN GET ONE OF YOUR MINIONS TO GO GET THEM FOR YOU.
Wizard: Maybe a skeleton… No, that's too big.... Oh, then maybe a goblin… No they'll stand out.
Demon Lord: SUMMON ME A CAT. THOSE ARE SMALL, APPROACHABLE, AND CUDDLEABLE, RIGHT? THAT'S WHAT WE NEED.
Wizard: E-excuse me? A cat? (This is weird, coming from him.)
Demon Lord: MAKE SURE IT'S A CUTE ONE.
Wizard: A-as you wish, my lord.
(The wizard draws an elaborate pentagram, then begins chanting. A mysterious hole open up in the middle of the pentagram and…)
Demon Lord: I-IT'S PERFECT.
Cat: meow
Wizard: Extra cute as you've requested, my lord. Now we can begin the mission.
Demon Lord: WHAT DO WE NEED TO GET?
Wizard: Well, to create your staff we'll need several enchanted gems, a large quantity of gold, and quite a few items to assist in the manufacturing process because creating the highest quality equipment requires the highest quality of tools. Therefore, as the weapon gains more and more unique enchantments, the more tools we'll need to perform the experimental procedure required to obtain demon-tier enchantments. While we already have the stones and most of the gold… We don't have any tools.
Cat: meow
Demon Lord: YOU"RE BORING THE CAT. JUST TELL IT WHAT TO GET ALREADY.
Wizard: Oh, right! I need your cat to go confront Gardenia, the goddess of the fields to…
Cat: *whimper*
Demon Lord: CATS CAN'T KILL GODS, WIZ.
Wizard: I really just need the shovel she gardens with, it's durable enough for me to scoop the cursed coals and put them under the furnace. It also has the enchantments necessary to touch cursed objects without getting affected…
Cat: meow
Demon Lord: THE CAT'S TIRED OF WAITING. JUST OPEN A PORTAL ALREADY.
(The Wizard begins chanting once again. A rip in the fabric of space begins to appear before you. After a soft purr, you leap into the small gap the rip had created. Your adventure to help your master obtain the weapon to rule the world with had just begun!)
CONTROLS (You might want to know these...)
WASD to move (very important)
Esc to restart level (did the cat hide in a wall? maybe this'll help.)